Fire Effects on Main Cables of Suspension Bridges Project Concludes
Apr 02 2020 | By William Hunnicutt, Ph.D.
A two-and-a-half-year long project studying the effects of fires on suspension bridge main cables concluded with a presentation to the sponsors, the Metropolitan Transportation Authority and the Port Authority of New York and New Jersey, and industry partners, Parsons Transportation Group.
Fire incidents are not uncommon on suspension bridges; a fire at the mid-span of the Verrazano-Narrows Bridge connecting Staten Island to Brooklyn in July 2019 punctuated the need for research on the effects of high temperatures on the steel used in suspension bridges. Surprisingly, very little research on this topic had been conducted prior to the study at Columbia University in the Carleton Laboratory. The groundbreaking research will provide the means to create essential and reliable guidelines for fire damage assessment of suspension bridges.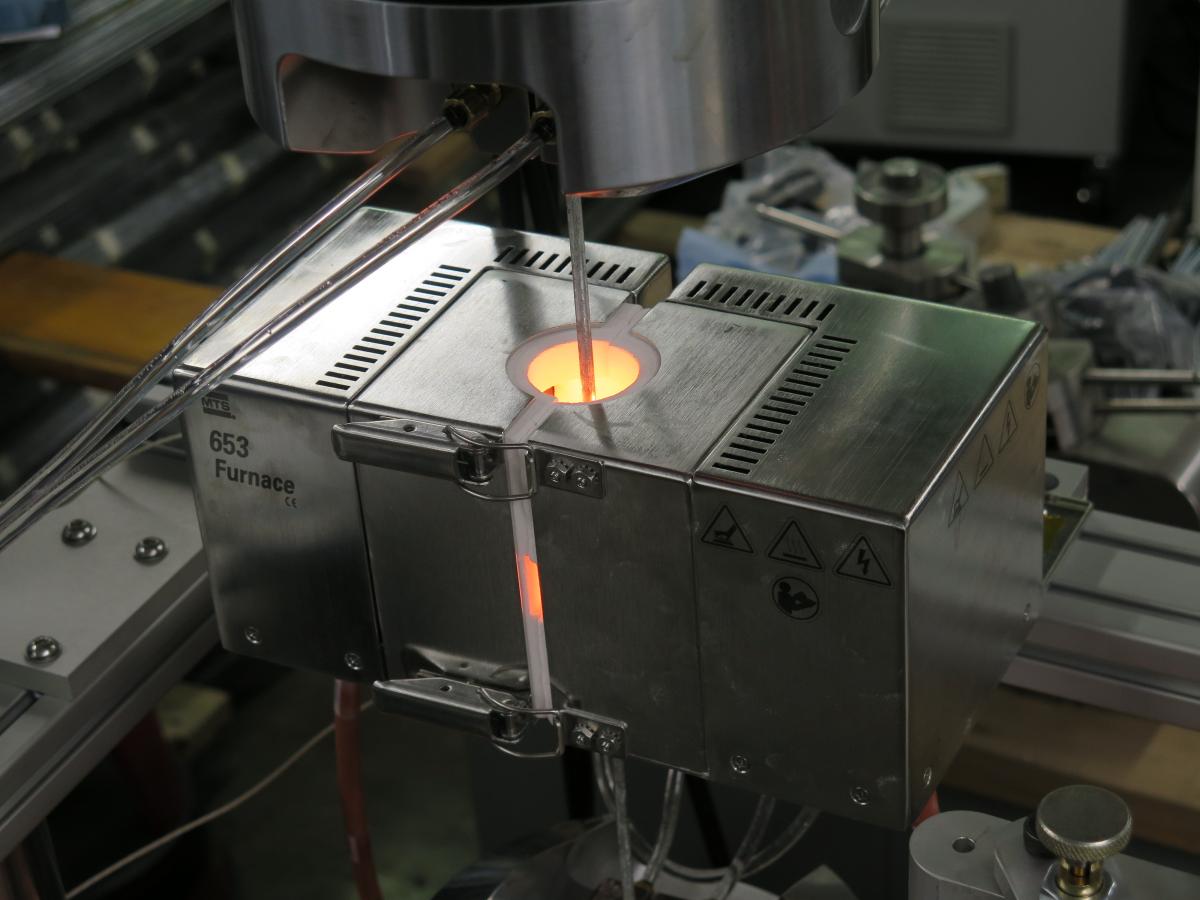 Image 1: Individual wires were heated under load to understand thermo-mechanical properties at this length scale.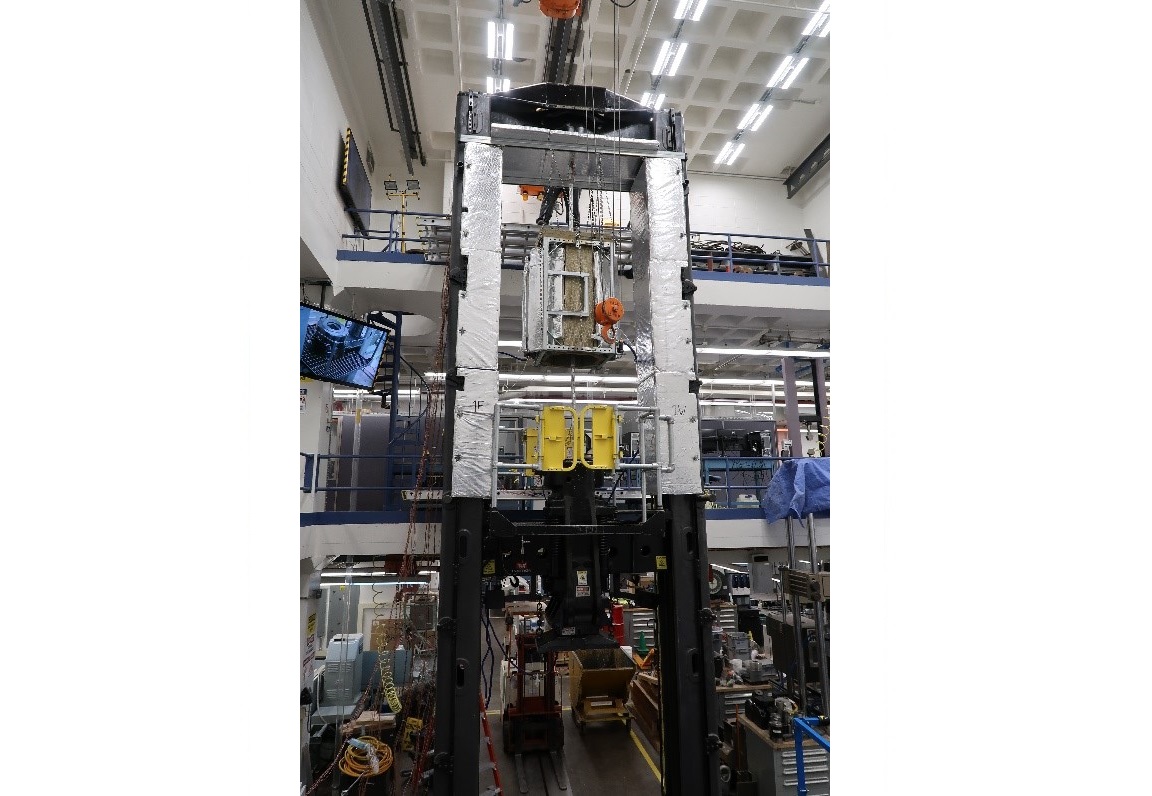 Image 2: A bundled strand composed of 61 wires was heated by a custom built furnace under load in Carleton Lab's historic Southwark-Emery Universal Testing Machine.
Suspension bridge main cables and suspender ropes are generally composed of bundles of high-strength steel wires with a diameter of 0.196 inches. The project was composed of three phases evaluating different length scales. Phase I examined the tensile properties of individual wires at elevated temperatures and at room temperature after heating. In Phase II, for the first time ever, tensile testing at high temperature of bundled wires was performed. In Phase III, also for the first time, a full-scale mock-up of a main cable was fabricated with temperature-sensing devices embedded throughout the cable to measure how heat flows through a tightly-bundled cable of over 9,000 individual wires. The combination of testing three different length scales will give researchers new insight on the mechanics of suspension bridge cables under high temperature conditions.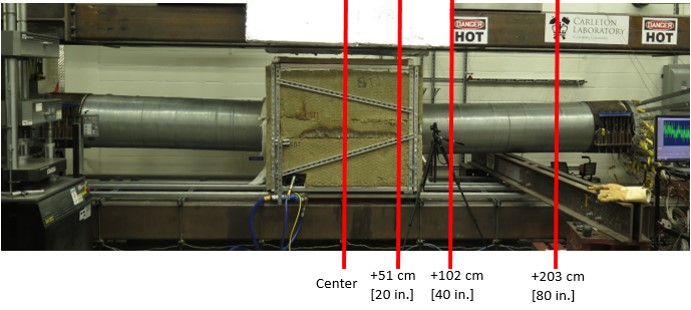 Image 3: Image of the main cable mock-up with longitudinal location of temperature sensors.


Image 4: Infrared thermal image of the main cable mock-up 24 hours into cool down.
So far, the results have been presented at Engineering Mechanics Institution 2018 and 2019 Conferences [1],[2] and the International Associate for Bridge and Structural Engineering 2019 Congress [3] with peer-reviewed journal articles in preparation. These results will be of tremendous value in ensuring our critical infrastructure remains safe and resilient.
Citations:
[1] J. Robinson, A. Brugger, R. Betti and M. Sloane, "Experimental Investigation of the Post-Fire Mechanical Behavior of High-Strength Steel Suspension Bridge Wires," in Engineering Mechanics Institute Conference: California Institute of Technology, Pasadena, 2019.
[2] J. Robinson, M. Sloane, R. Betti and A. Brugger, "Experimental Investigation of the Mechanical Properties of High Strength Bridge Wire in Fire Events," in Engineering Mechanics Institute Conference: Massachusetts Institute of Technology, Boston, 2018.
[3] J. Robinson, A. Brugger and R. Betti, "Experimental Study of High Temperature Performance of Steel Suspension Bridge Wires," in IABSE Congress: The Evolving Metropolis, New York City, 2019.