Microscopy & Imaging
The following equipment is available to users of the Carleton Laboratory. For further details, click on the tab of the testing machine.
In order to use any of these testing machines, you must apply for Research Access, as described here.
Keyence VHX-5000 Digital Microscope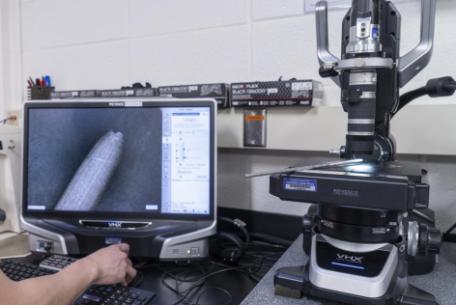 The Keyence VHX-5000 is a versatile high-fidelity optical microscope designed for high depth of field measurements specialized for industrial applications. The VHX can recognize the focus information automatically when the field of view is moved and then create a depth composition image quickly. This allows intuitive and instant focusing on a point you want to observe. The 50 frames per second camera captures a large amount of image data with different focus positions, and the REMAX V high-speed processing graphics engine processes it at high speed. It uses technology that adopts best focus data for each pixel to allow for clear, fully focused images to be observed and recorded. A high resolution image is obtained with single-wavelength light and the HDR (High Dynamic Range) function that captures multiple images by varying the shutter speed to produce a fine detail image. These two functions enable high resolution and high contrast observation.
The VH-Z20R/Z20W/Z20T lens offers high-resolution observation at general-purpose magnifications of 20x to 200x. This lens has been designed to optimize both depth-of-field and resolution and can also be used in handheld mode.
SPECIFICATIONS
Manufacturer: Keyence, Japan
Model: VHX-5000
Camera: 1/1.8-inch CMOG image sensor
Resolution: 1600 (H) x 1200 (V)
Frame Rate: 50 frames/sec
High Dynamic Range: 16-bit resolution through RGB data from each pixel
Magnification:

Low Magnification Lens: VH-Z20R/Z20W/Z20T 20x-200x
Medium Magnification Lens: VH-Z250T 250x-2500x
Further lenses available from manufacturer
Keyence Image Dimension Measuring System IM-7001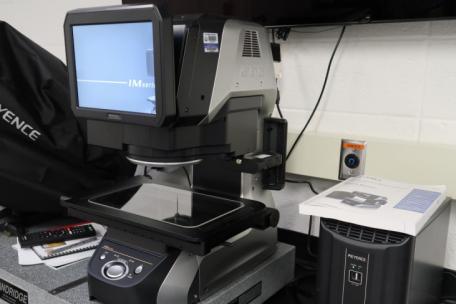 The Keyence IM-7001 Image Dimension Measuring System is a high fidelity microscope that contains a suite of tools and software that allow for measurments of various dimensions. This device gives the Carleton Lab additional capabilities involving quantifying fractures and other physical features of small samples.
SPECIFICATIONS
Manufacturer: Keyence, Japan
Model: IM-7001
Camera: Ø3.94 in (Ø100mm) telecentric lens
Field of View:

Maximum: 7.87 in x 7.87 in (200 mm x 200mm)
Minimum: Ø0.98 in (Ø25 mm)

Capable of measurements using combination of analysis software, multi angle lighting configurations, and physical light probe unit
FLIR SC8300 HD Infrared Camera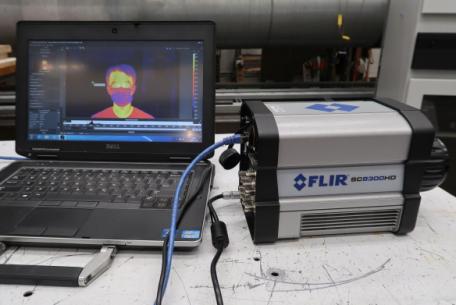 The FLIR SC8300HD Thermal Camera is a portable option for thermal imaging and recording. The camera has an assortment of various lenses for different fields of view. The accompanying program allows for various thermal ranges to be recorded in both video and still picture format.
SPECIFICATIONS
Manufacturer: FLIR Systems Inc., USA
Model: SC8300HD Thermal Camera
Dimensions: 9.8" W x 6.2" D x 5.8" H (249 x 158 x 147 mm)
Weight: 14 lb. (6.35 kg)
Thermal Range: -20

°

C to 600

°

C (-4

°

F to 1112

°

F) in various thermal ranges
Max Resolution: 1344 (H) x 784 (V)
Typical Max Framerate at Max Resolution: 120 frames/s
Lenses: 17mm, 25mm, 50mm, 100mm
CARLETON LAB SERVICE CENTER RATES
Click the button below to view the rates for the Carleton Lab Service Center (Requires UNI login).